Shopping Cart
Your Cart is Empty
There was an error with PayPal
Click here to try again
Thank you for your business!
You should be receiving an order confirmation from Paypal shortly.
Exit Shopping Cart
| | |
| --- | --- |
| Posted on February 26, 2014 at 4:40 PM | |
Hello Family! Welcome to "Tarot the Day!" for Wednesday, February 26th, 2014. It's hump day! Only two more days to go until the week-end! Can we hold on that long? I bet we can. And maybe Tarot can help along the way. Let's get into it.
Much like yesterday's artist, I don't know a helluva lot about today's artist. ("Covering Your Ass" Marketing Note to artists: Put your name - your REAL name - on everything you create, along with the date you finish your piece. That way people know it's you. They can contact you. It makes it easier to hire you for commissions. And if your shit's any good, they can't steal it, call it their own and make "dolla dolla" bills off it. Why? BECAUSE YOUR NAME'S ON IT!!! "Covering Your Ass" Marketing Note over.) The only thing I know about today's artist is she's female and her deviantART page says she's from the United States. She has a livejournal page that has some serious medical stuff on it I'm not even gonna joke about. (One word: OUCH!) But other than her favorite movies, tv shows, music, games and Photoshop, I know nothing about her. (Aspiring artists, see "Covering Your Ass" Marketing Note above.) But she does have a fantastic gallery on deviant ART. So I encourage you to GO to her website, check out her gallery and BU… wait… what? You're kidding. Really? You mean she doesn't have anything for sale? Oh. Okay. Well her gallery is awesome. Check it out and if you have a deviantART account, drop her a line to let her know her art KICKS ASS! Tell her Stephen from "The Traveling Tarot" sent you, and he knows good art. Sorta. Sometimes. Well he knows what kicks his ass and she kicks his ass and you can tell her I said so. Let's get into today's card. It's the Five of Swords. Here's bloopyfish's (not her real name) take on that card: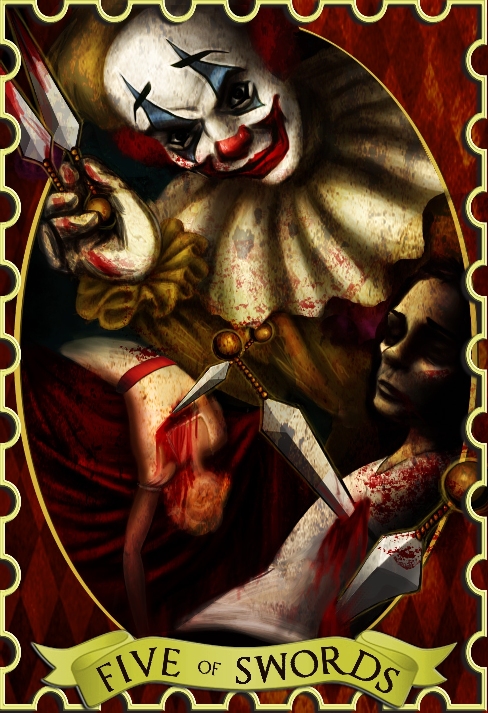 Creepy, huh? It actually fits really well with where we're going with the Five of Swords today. Random true story: Clowns don't creep me out. I know that puts me in the minority nowadays, but seriously me and clowns are cool. But you know what clown does creep me the hell out? Pennywise the Dancing Clown.  Not necessarily the Tim Curry version, although he did have his moments. No, I'm talking about the book itself. The real deal. The piss your pants (You ain't cool unless you pee your pants!) stay up for nine days straight cause you're too afraid to go to sleep Stephen King novel.  Yeah. THAT one.  I tell ya family, I have never been more afraid of a book in my ENTIRE LIFE! And yet I couldn't put the damned thing down! But when I finally finished it, my mattress looked like this.  Only bigger. So I know what having the shit scared outta me feels like. It sorta feels like Pennywise the Dancing Clown.
And it sorta looks like our Five of Swords today. So without further ado, SPOILER ALERT!SPOILER ALERT!SPOILER ALERT! let's shoot rocks and battery acid (#asthmainhaler) on our clown/spider, growl "THIS ISN'T OVER", rip its heart out, and see what's left once the dust has settled.
So we have a clown - hell, let's just call him Pennywise - and he's dressed up in clown make-up. The bald head with the bushy red hair line crowning the base of his head right above his ears. The pasty, white clown make up used as foundation. The blue make up that frames his eyes and shoots up like two swords far beyond his forehead. The black painted in eyebrows that cris-cross the top of the blue blades. The dark, almost black, gleaming, sinister eyes that pierce through the white make up and shoot straight through your soul. The red, blood-red makeup that colors his nose and oversized mouth that forms a devilish grin. The oversized golden clown suit with a monstrous pleated white bib surrounding his neck and red poufy balls going down the front. In his right hand he holds two bloody blades. And his two victims lie prone below him. One with a knife in the back and one with two knives in front. His face, with that evil clown grin seems to be saying, "Oh look! I have two more knives! Come on in and we'll find room for them… IN YOUR NECK!!! HAHAHAHAHAHAHAHAHAHAHAHAHAHAHA!!!!" Shit! Maybe I am afraid of clowns!
So what - other than running for our lives - is Pennywise trying to tell us today? Well all kidding aside, I think what Pennywise is telling us has a LOT to do with what we discovered on Monday. Remember in part of Monday's "Tarot the Day!" we discovered that we really don't get away with anything nefarious? That there's always somebody, somewhere watching us? We may think we're making out like bandits, but in fact karma is just biding her time. And when the time is right - it's NEVER on our schedule, btw - karma will bite us on the ass.
Is there something we're DESPERATELY trying to get away with? Are we trying to hide something? As we've learned before, the Swords suit REQUIRES we tell the truth. So I wonder what it is we're sneaking around about. Are we lying in order to get ahead? Are we "fudging the truth" a little bit in order to keep afloat? Have we gotten so caught up in "Keeping Up With the Kardashians" down the street in our own neighborhoods that we can barely pay the bills? When we go out and front  and floss like we have something going on in our lives when everybody knows we ride the pole  Monday through Thursday to go clubbing on Friday and Saturday, trust and believe that kind of lifestyle eventually catches up with us. If we're trying to get away with something, if we're not living our lives as openly and as honestly as we possibly can, then that kind of activity is bound to be our eventual undoing.
Also, is there something in our lives we feel is unfair? When the Five of Swords comes up in a reading it could point to the inner workings of our own lives and our perceptions of what's fair and what's not. Alhough for the purposes of today's blog I'd like to set a different scene: What if the unfairness we're experiencing in life right now are the direct consequences of the life choices we've made up to this point? Everything has a consequence. There is nothing we can do - or not do - in life that doesn't reap its own reward. All too often when "bad" things happen to us it can be because we've set into motion a series of events that lead to where we are now. And the thing about consequences is they can manifest in our lives YEARS down the line. Very rarely does instant karma happen. (Although when it does, it's usually HIGH-larious!  Typically we don't see the fruits of our labors (or lack thereof) until months, sometimes YEARS down the line. The problem is, sometimes when we're paying the price for what we've done, we can't see the long view. Sometimes we don't even realize the shit we're going through now is a direct result of the shit we've put into motion EONS ago. If that's the case and we're going through a tough time now, maybe a smart idea would be to take a long view and see if there's anything - ANYTHING - we've done to create the situation we're in now. If so, the Five of Swords is advising us to learn from those mistakes and move on in a more positive direction.
The flip side of that is sometimes things really don't work out the way we plan. No matter what. We've dotted all our I's and crossed all our T's. We've been honest with ourselves and the people around us. And we've requested, and received, the same in return. But for some reason or another things just aren't working out the way we planned. Well when that happens it's always smart to realize we are on the Universe's time and not the other way around. All too often we want the Universe to bend to our schedule and when we want things to happen. And when it doesn't we may have the tendency to shake our fists at the sky and scream, "WHY?!?!?!?!?!?!"  We'd be smart to remember the Universe is on its own timetable. It has a lot of moving parts. It's not only focusing on us and making sure we have the best lives possible, but it's also working on every other living thing, trying to ensure the same for them as well. And sometimes the Universe is moving chess pieces around to make our lives easier that we don't even know about. So again, maybe the "unfairness" of things not working out exactly as we planned, when we planned and how we planned is simply a limited perception on our parts because as humans we have a limited vision.
Its during those times our mettle is tested. It's during those times the Universe is saying, "PLEASE don't give up! I'm REALLY WORKING on your behalf back here! And if you throw your hands up in defeat ALL the work I've done that you have NO CLUE about, will be for nothing. And we'll have to start again from scratch." I've given this quote before but I think it's REALLY apropos for today's situation:
"Many of life's failures are experienced by people who did not realize how close they were to success when they gave up." - Thomas Edison
All too often the perceived "unfairness" of life will cause us to give up. It's in those times where we're almost ready to give up, success will show itself. And again, it's not by accident. The Universe is working - HARD - to create circumstances in our lives that will take us to the next level. But if we give up, we end up throwing all the hard work of the Universe out the window because we're too short-sighted to stick to it. As our good friend Thomas Edison once said:
"The three things that are most essential to achievement are common sense, hard work and stick-to-it-iv-ness"
Finally, and I really must leave room for this, there are times when we've done absolutely NOTHING to deserve what we've been given. It's not usually the case, but every once in a while we've done nothing to warrant the outpouring of shit that is hitting us all at once. I only have one answer for that and it doesn't make any shitty thing we're going through at any given moment any better: It's our life path. It's what we have been sent here for. It's the process we decided we would go through this time around LONG before we came bursting from the womb. It's our lesson. It's our journey. It's ours and no one else's. Does it make the pain go away? Nope. Does it make it any better? Probably not. But if there is comfort to be found in the pain we're going through right now is if we come out the other side better people for having gone through whatever shit storm we're going through, we can in turn make other people's lives better as well. Yes I beat this drum loudly and repeatedly, but it's true. We're all in this thing together. If by pointing to our own lives we can make the life of someone else better, it's a life well lived. It's worth going through the unfairness of what we had to go through. If we can tell someone else, "I made it, and so can you!" then we have fulfilled part of the task we're all sent here to do: Make life better for each other.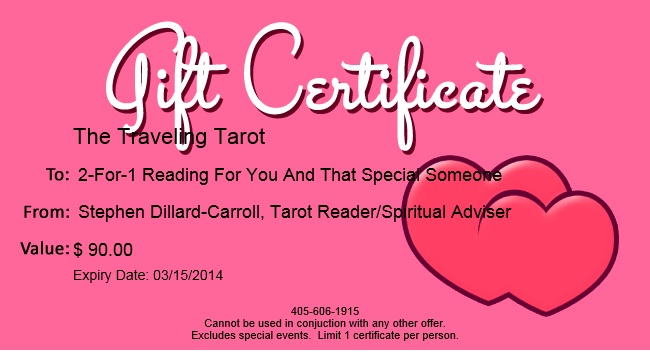 For more information on the above offer, click HERE.
Until next time family, be blessed.
Stephen Dillard-Carroll
The Traveling Tarot
Friend me on Facebook: http://www.facebook.com/TheTravelingTarot
Follow me on Twitter: http://www.twitter.com/tarottraveler
Categories: None
/