Shopping Cart
Your Cart is Empty
There was an error with PayPal
Click here to try again
Thank you for your business!
You should be receiving an order confirmation from Paypal shortly.
Exit Shopping Cart
| | |
| --- | --- |
| Posted on February 27, 2014 at 6:55 PM | |
Hello Family! Welcome to "Tarot the Day!" for Thursday, February 27th, 2014. A really cool card for a really cool day, so let's get into it.
Today's artist is Vince Packard. His bio page comes complete with a riddle. I KNOW! How many other bios come with a riddle?  Exactly.  None.  How cool is that?  Here's his: "The year I was born is exactly the same upside down. The whole year. As in 1001, 1691, it doesn't happen again until the year 6009." If you guessed he was born in 1991, WRONG!!!  Go to the back of the classroom. There's a DUNCE cap there with your name on it. (Don't worry, I'll be joining you. I thought it was 1991 too.) And for those of you who got the right answer - without looking it up - you get this. Our new friend Vince was born in Kentucky but grew up in Akron, Ohio. His dad was an artist and even had an art gallery in Akron. But much like Rob Ingram from Monday's "Tarot the Day!", Vince, in his own words, "came to trust my child's eye that I never wanted to go the boring, elitist, academic route." (Side note: Okay, I know I just went in on all things higher education with all the friggin' memes. But truth be told, I really don't have a problem with higher education.  What I DO have a problem with is educators getting off on telling young people "you're wrong" or "you're not doing that right" or "this is how it SHOULD be done". It stifles, and in a lot of situations downright stomps to death creativity in children and young adults. THAT'S what I have a problem with. And by God, it needs to STOP!  *sigh* Let's get back to today's artist.) He's actually a man after my own heart. Rebellious. Punk. Underground. DILLIGAF kind of guy. He's led quite a life, actually. From growing veggies and milking goats to building a solar powered cabin, and environmental activism.  Along his odyssey, he started working as a tattoo artist selling design sheets and the such, eventually faking his way into tattoo shops. He seems to be living the good life nowadays up in Kent, Ohio, in his words, "doing wonderful fun projects with Jexo at Standing Rock Cultural Arts. My work with the kid's plays, my art shows, mask workshops and puppets at the North Water Street Gallery and the friends, family and community have kept life good." I really like this guy. A redneck hippie. What's NOT to like?  So therefore, as I do EVERY DAY for the artists that REALLY TURN ME ON, I encourage you to GO to his website, check out his gallery, and BUY HIS SHIT!!!
Let's get into today's card which happens to be The Moon. Let's see how our new friend Vince interprets The Moon. Check it out: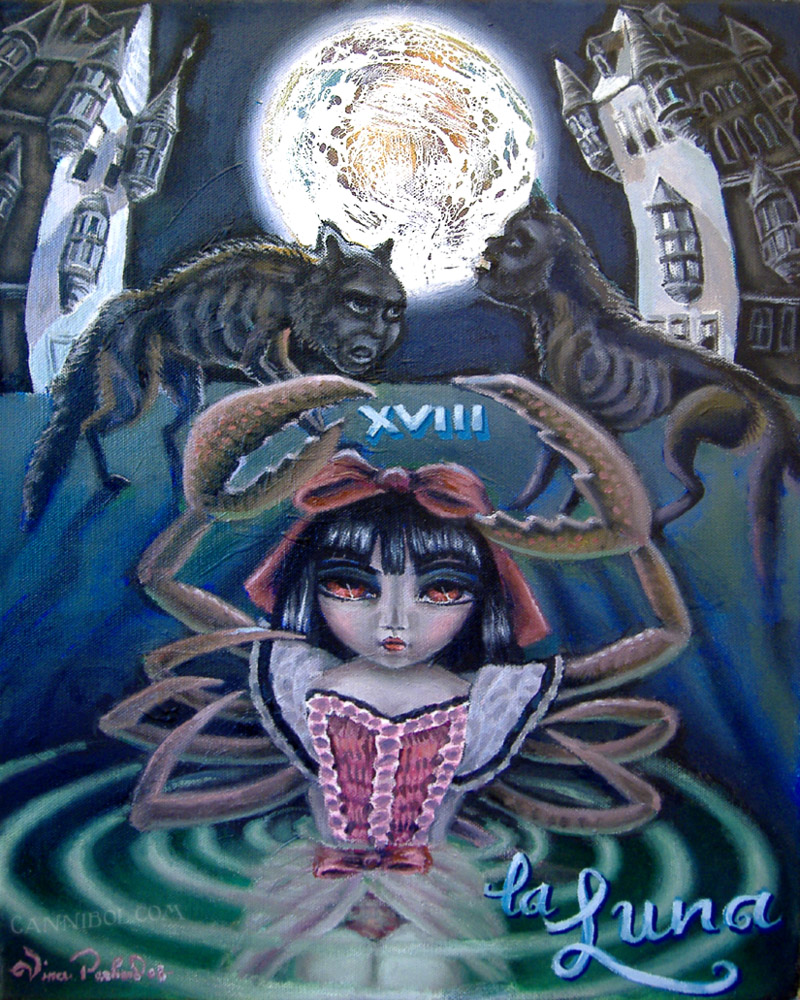 Pretty cool, huh?  As per our usual, we'll slice and dice, chop and make secret sauce (ELEVEN HERBS AND SPICES!) outta the motherfucker. Then we'll put it back together and see how we can apply it to our lives.
The first thing that jumps out at me is, of course, the moon. Iridescent. Glowing. Full. Beautiful against a cloudless nighttime sky. Framing the full moon are two buildings, one on either side of the moon. The buildings seem to be genuflecting towards the moon. Like if the Leaning Tower of Pisa actually bent in the middle. In the middle ground of the picture we have two dogs. They're emaciated and starving. They're skin and bones. Their ribs jut of from their bodies, barely holding their internal organs in place. One dog howls forlornly at the moon as if to beg it for a blessing of a scrap of food. But look at their faces! Don't they seem to have human faces?  The roman numeral 18 is framed by the crayfish claws of the human girl who is floating out of the shimmering pool of water below. Our girl has a pretty red bow atop her pageboy cut black hair. Her eyes are HUGE, but the other thing of note is they seem to be red and bloodshot. Her skin is white and luminous like fine porcelain. Her cheeks have a slight pink blush. She's wearing a white nightgown with black trim and a red bodice in the middle. The upper half of her body has risen completely out of the pool, while the lower half is still submerged. And again, she has multiple arms that have taken lobster-like form.
I know what your thinking, so let me explain. The Moon card has long been associated with dreams. You know, the shit that happens inside our brain when we go to sleep. You know. The fucked up shit. The wacky shit. The cool shit. The weird, wild and wonderful journey our spirits and minds take every night. The things that have us waking up laughing, crying, rubbing our nips and shitting bricks all at the same time. Yeah. Those things.  So it's quite natural Vince hasn't painted a bowl of fruit. Instead, he's taken the theme of the inner workings of our minds and committed it to canvas in a way that KICKS MUCH BOOTAY! So what can The Moon teach us today? Well let's dive in and take a look.
Since one of the things The Moon card has historically dealt with was the realm of dreams, one can only wonder if we should be paying attention to our dreams? Have we had recurring dreams lately? Nightmares that wake us up in the middle of the night, and then when we're brave enough to fall back asleep pick up right where they left off? Have we been alternately tormented/delighted in the journeys our spirits and minds take every night? If so, The Moon card is advising us to wake up and pay attention.
I've said it before that I have a special affinity for dreams. They tormented me as a child. In fact, even today if I go a month without having at least one nightmare I'm doing well. Because dreams of every shape, size, and topic (apparently NOTHING is off limits when I'm asleep) have been my reality and norm all my life, I've grown accustomed to waking up in the middle of the night in a puddle of my own bodily fluids.
I've also said before I have a head made out of quick-dry cement. So it's hard sometimes for the Universe to crack my skull open and scream, "HEY! I'M TALKING TO YOU!!!" I try my best to be open and receptive of the communiqué the Universe is sending my way. Really I do. I do my very best to "get the memo. But every once in a while the e-mail gets lost or the memo gets shredded and nothing - and I do mean NOTHING - is coming across my desk. So when that happens, the Universe sends me messages via dreams. Yeah they're usually embedded in code, but they're there. It's sorta the last straw the Universe has before shit gets real. So when I have dreams that wake me up in the middle of the night, floating in my own fluids, I try my best to pay attention.
What about you? Do you pay attention? If not, maybe it would be a good idea for you - hell, it would be a good idea for ALL of us - to pay attention. There's this thing called a "dream journal".  It doesn't have to be as "FANCY!" and embellished as the one I linked to. In fact, it could be regular notepad paper and a pen we keep beside our beds. The way it works is when we have a dream, immediately upon waking, we roll over, turn on the light, grab our dream journal and start word vomiting. Write anything and everything that comes to our minds. When we think we've written enough, we put it away and go back to sleep. We don't read what we've written because odds are it probably won't make any sense anyway. (Plus we have to get up in the morning and go to work!) The next morning and throughout that day, unless the dream won't leave us alone, we do our best to not dwell upon it. That evening before going to sleep we pull out the dream journal and read what we wrote the night before. Upon contemplation it may make sense. Or it may not. Either way, we should spend some time thinking about how we felt about the dream (write that down - very important), and if it makes sense or not (just as important we write that down too). If it makes sense, great! If not, put it away, roll over, invite God (or whomever you call your Higher Power) to speak to us again that night if it's important and s/he's trying to get a message to us, and then fall asleep knowing our Higher Power will speak to us if it's important enough. And when s/he does, we should make sure to repeat the above. The only difference this time is after word vomiting, we ask if there's a connection we're missing and if it's connected to the dream from the night before. Eventually a pattern will make itself known. Sometimes sooner rather than later.
The other thing The Moon card is associated with is the realm of psychic phenomenon. When The Moon comes up in a reading I often ask people if they're experiencing any weird coincidences (there are no coincidences, btw) or any type of déjà vu. If so, then it could be The Moon card is trying to get those psychic talents and gifts to come to the surface. I encourage people who have these kinds of occurrences happen in their lives not to be afraid of them. All too often I head people say, "Well, I don't wanna know." And you know what? That's valid. There is a responsibility in knowing that most people don't want to necessarily take on. However, I've said it time and time again the Universe never EVER gives us more than we can handle. So if we are indeed experiencing things that can't be explained away, maybe we should take stock of what we REALLY can handle and what is an unfounded fear.
Another thing The Moon card can denote is an opening of ones mind to the possibility that "there's something else out there". Quite often it can mean a willingness to broaden our spiritual horizons. To explore "new age" philosophies. Again, if there is a fear of "the unknown" either because of what we've been conditioned to expect or because we're just out and out afraid of it all, there's no reason to fear. Especially if The Moon card is coming up in a reading for us. The Universe, in its own gentle way, is encouraging us to explore. To dip our toes in the water. To see what spiritual journey we can go on all on our own.
The last thing I want to address is actually the dogs in the picture. In Tarot, dogs are associated with instinct. And it's interesting in Vince's picture the dogs have human faces. Is there a part of us that is ignoring our instinct? The dogs in the picture are starving to death. Are we starving our instincts? Are we going through life in neutral? Are we just coasting through life? Not making much of any kind of waves? Are we not being true to our true selves, our true nature? Do we go through life second-guessing ourselves even though we KNOW what the answer to our questions are? If so, we are absolutely starving our instincts. Time goes by so slowly for those who wait. Are we sitting on our hands and cooling our heels? If so, why? Why aren't we making the choice to live a fuller life? A more productive life? A happier life? Perhaps the starving dogs are begging us to follow our instincts. To trust that "sixth sense". To do what feels right and natural. Let's not have our spiritual instincts die of starvation.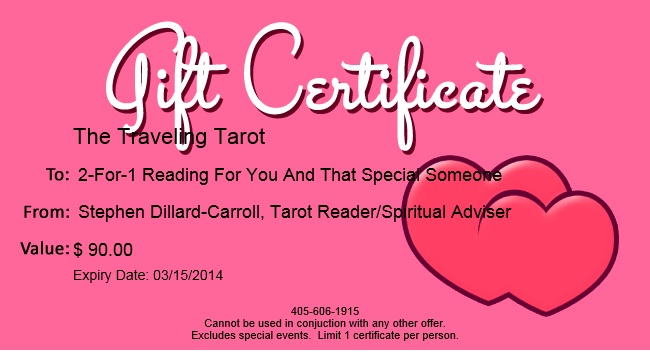 For more information on the above offer, click HERE.
Until next time family, be blessed.
Stephen Dillard-Carroll
The Traveling Tarot
Friend me on Facebook: http://www.facebook.com/TheTravelingTarot
Follow me on Twitter: http://www.twitter.com/tarottraveler
Categories: None
/