Shopping Cart
Your Cart is Empty
There was an error with PayPal
Click here to try again
Thank you for your business!
You should be receiving an order confirmation from Paypal shortly.
Exit Shopping Cart
| | |
| --- | --- |
| Posted on March 3, 2014 at 8:35 PM | |
Hello Family!
This is a quick update to let you know "Tarot the Day!" will not be broadcast this week.  I have some important issues I have to attend to this week and I simply will not have enough time to devote to giving you the best damned daily Tarot blog this side of the Universe.  Granted, I could put up substandard "cut and paste" spirituality shit, but I know you expect better from me.  And quite frankly, I expect THE BEST from myself.  If I can't give you 110% of my blood, guts, sweat, tears (and a couple farts) on this blog on a DAILY basis, I'd rather not do it at all.  And since I know for a fact you REQUIRE the good shit, I'm gonna come back next week with that BOMB ASSED SHIT you've come to expect from me here at "The Traveling Tarot" and "Tarot the Day!"
But hold up, wait a minute...
Just because I'm not giving you a blog on a daily basis this week doesn't mean I'm gonna leave you high and dry for the next seven days.  Come on now.  I wouldn't do you like that, baby!  I got you!
I will be posting something uplifting and inspirational (and sometimes downright funny) to my facebook page and my twitter feed EVERYDAY.  I encourage you to click the links below and  "Like" my facebook page and follow me on twitter.  That way when I do post the good shit on my facebook and twitter pages this week (I PROMISE to post AT LEAST once a day) you'll get the juicy goodness sprayed all over your body!  (Just the way you like it...)
Thank you for your understanding about my in-depth blog, "Tarot the Day!".  I PROMISE "Tarot the Day!" will be back and BETTER THAN EVER next Monday.  In the meantime family, I encourage you to live the BEST DAMNED LIFE EVER!!!
(I know last night, I did.)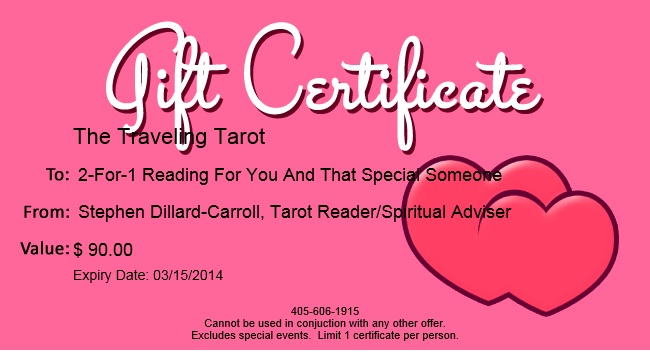 For more information on the above offer, click HERE.
Until next time family, be blessed.
Stephen Dillard-Carroll
The Traveling Tarot
http://www.travelingtarot.com
[email protected]
Friend me on Facebook: http://www.facebook.com/TheTravelingTarot
Follow me on Twitter: http://www.twitter.com/TarotTraveler
Categories: None
/