Shopping Cart
Your Cart is Empty
There was an error with PayPal
Click here to try again
Thank you for your business!
You should be receiving an order confirmation from Paypal shortly.
Exit Shopping Cart
| | |
| --- | --- |
| Posted on March 11, 2014 at 9:35 PM | |
Hello Family! Welcome to "Tarot the Day!" for Tuesday, March 11th, 2014. I'VE MISSED YOU GUYS!!! I've missed writing to you! I've missed hearing your feedback! (Even if the feedback full of shade) But you know what? If I'm telling the truth some of the shade, though legendary, was well deserved.  Including the shade I felt when I missed yesterday's post. I felt it yesterday, truly I did. And like I said before it was well deserved. But I'm back, baby!  And I'm better than ever!
One last piece of business before we get into today's card.  Remember when I said I was thinking about doing a "Tarot the WEEK-END!"? and ended up doing only one - so far.  Well I've been thinking about it and what I've decided to do is instead of making it a weekly thing is to make it a monthly thing. It'll still be called "Tarot the WEEK-END!" and it will still cover the week-end ahead, but you just won't get it every week-end.  See, the truth is, thanks to you I've become quite busy. THANK YOU! Where once I was waiting for the phone to ring and waiting for people to book appointments, nowadays I'm "scheduling" people. Which is AWESOME! I have a schedule!  THANK YOU!!! So I'm still going to do "Tarot the WEEK-END!" but it'll be the first week-end of every month. So with that piece of business taken care of, let's get into today's card.
Today's artist is an artist I found on deviantART.com  His name is Paul Parkes and he's from Thornton, England. Aaaand…. That's all I know.  Seriously. That's it.  I suppose I could stalk him on twitter, but that's creepy.  So I really don't know much about our artist today except his work which is REALLY GOOD.  Oh and he has prints for sale.  So I encourage you to GO to his deviantART website, check out his gallery and BUY HIS SHIT!!!  (But please don't stalk him on twitter.  Seriously. That shit is creepy.)
Today's card is The Fool. Here's our new friend Paul's interpretation of this card: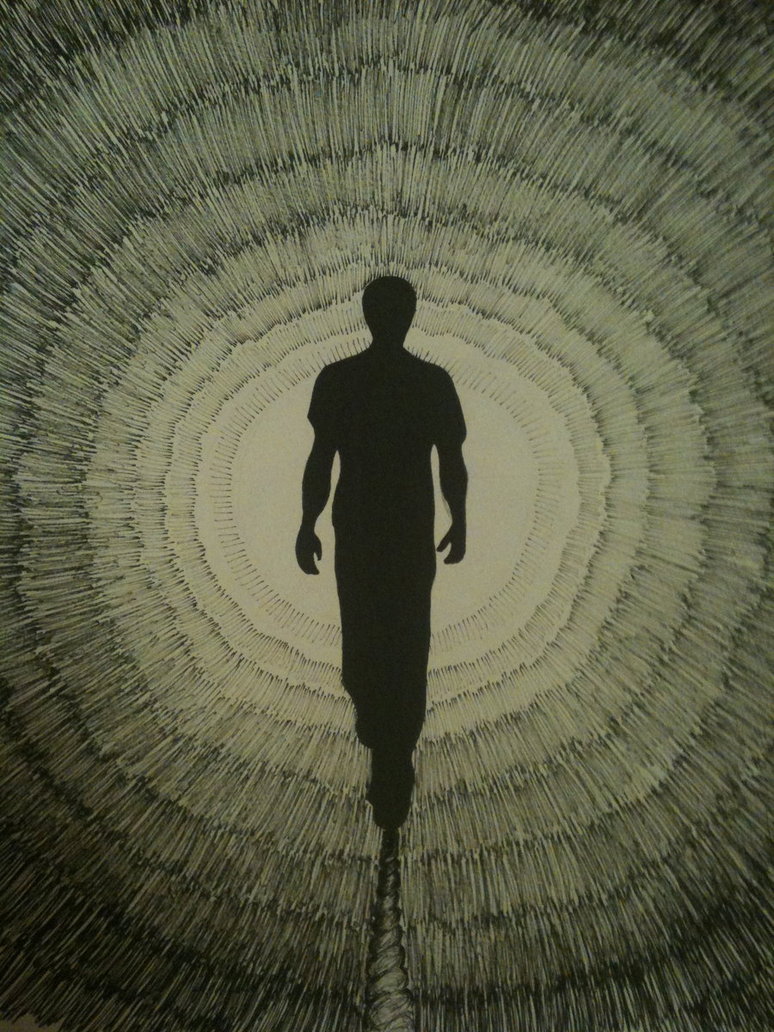 Pretty cool, huh?  As per our usual, we'll slice and dice the imagery into tiny pieces, take a look it from the inside, sew it back together, take a look at it and see how we can apply its lessons to our lives today.
Paul's interpretation of this card, at first glance, is a pretty straightforward kind of interpretation. We've got a light at the end of a tunnel that sprays out like rays of sunlight. In the middle of a tunnel we have a man who's completely encased in shadow because of the bright light shining through the tunnel. But the question is, is this guy going towards the light or away from the light? Is he coming toward us or walking away from us? Who IS this guy anyway?
Full disclosure: When I first started reading Tarot I HATED the Fool card.  For real. HATED IT. 1) I'm not a fool. 2) See #1  And when it came up for people I would read for, again, 1) They're not fools. 2) See #1  I felt it was insulting. I was up high, high, HIGH on my high horse thinking I could NEVER be a Fool. And I thought much more of the people that came to see me to ever question their state of mind and how they're living they're lives. We all have our journeys we have to take. We all have unique problems and unique solutions that propel our existence to a higher plane. So how could we be fools?
But then I started to really think about it.  Historically in the Major Arcana, The Fool starts us out at 0 and ends us up at 21. Then the cycle is repeated at 0 up to 21 and back again. The first lesson of the Fool is he (we) is on a journey that takes him (us) to several stops along the way.  On those stops there is an opportunity for growth and positive change.  Once he (we) reaches the last stop of the journey (the 21st card in the Major Arcana), the Fool (us) repeats his (our) journey.  Hopefully he (us) has learned the lessons he (we) needed to learn and when he (we) goes through the journey of the 21 Major Arcana, he (we) is better equipped for the journey and is open to new lessons and life experiences. There are a few lessons in that cycle I'd like to explore.
The first is, of course, life is one big cycle. There are beginnings. There are endings. There are roads that are smooth and even and we can see for miles ahead. Then there are roads filled with potholes and roadblocks and twists and turns we could never anticipate in a million years. But it's all part of one big journey we're on. And it ends when it ends, only to start back up again. We have absolutely no control over that. But we do have control over how we live while we are here.
Sometimes we can get the untrue notion running around in our heads that "things will get better when…" or "If I can only get XYZ my life would be SO much better…" or "If I had ABC I wouldn't have to deal with the things I'm dealing with today." Maybe. But maybe not. I believe one of the lessons The Fool has to give to us is enjoying where we are now. Yes, we're all on a journey. Once we make the decision we will make Earth our classroom for however long we're here, we start that journey. We set the wheel of life into motion and step on it. But out attitude while we're on that journey makes all the difference. Take a look at the Fool in the classical Rider-Waite form: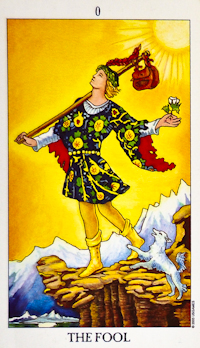 See the joy in his face? See the wild and utter abandonment of worry and care in his countenance? He knows he's on a journey and he's happy and grateful for it. Which is the second thing I'd like to discuss. The Fool teaches us to be grateful for this life we're living. Not necessarily because it's all wine and roses, but because it simply is. We have life. We have the opportunity to live. But not only do we have the opportunity to live but we can live abundantly. What a blessing that is! Each morning when we wake up this side of the dirt is another opportunity to start fresh. To start new. To change our attitudes and our lives for the better. We have that choice. We have that privilege. We have that opportunity to let go of the things that may be making us miserable. We have the chance to look at our current situations and improve upon them. We have the responsibility to make our own lives the best lives possible.
Does it make everything better? It can.  It can be a HUGE burden lifted off our shoulders.  But does it make the bad stuff we've experienced magically disappear? Of course not. To be sure, there are consequences to the choices we've made up to this point. Some may be easier to handle than others, but there are consequences. We're constantly accumulating and getting rid of karmic debt. Hopefully on our journey we're accumulating much more good karma than bad.
But even THAT'S beside the point. In the imagery of the Rider-Waite deck, the Fool doesn't know where he's going. The Fool doesn't look like he necessarily has a plan. The Fool doesn't know where the road (or lack of a road) will lead. He's completely and utterly within the moment. He's not concerned with the future. The future can take care of itself. And although he's moving forward, he's as grounded, centered, and Zen as one can possibly be. He's right now. And that's a lesson we could all learn from time to time.
Even within the imagery of the picture our new friend Paul has created, there's a sense of adventure. A sense of mystery. A feeling of, "I'm not at all sure what lies ahead but I'm moving forward anyway." Which begs the question: Do we worry too much about the future? Are our lives planned out to the nth degree with no room for variation and unforeseen circumstances? Are we so busy planning our future we're missing out on the blessings of the here and now?
And yet, we do in fact have responsibilities. We may have life, careers, families, that need to be taken care of. We have bills that come due each month that we have to stay on top of. We have to somehow live in this world each and every day and do our best to survive the best way we know how. So with all the pressures of a world that could really care less about the "personal spiritual journey" we're on, how do we manage? How do we cope? How do we survive? How do we take the lessons of the Fool and apply them to our lives when it seems the outside world has little regard for "fooling around".
Another reason why I love Paul's interpretation of the Fool is because there's movement within the card. We don't know where our hero the Fool has been or where he's going. We just know he's on the move. Have we been stuck in a rut? Have we been spinning our wheels and getting nowhere? Is the fear of the unknown gotten us to a place where we'd rather stay in one place than actually move? Is there a big leap we've been wanting to take? An adventure we've been itching to try? A journey within the larger journey of our lives we've been living to embark upon? Why are we, to look at the darker side of the coin, "fooling around"? Why haven't we taken that first step? What's holding us back? What's keeping us from living our lives out loud?
Faith and courage. They're the last things I want to talk about today. They're the reasons why I finally fell in love with the Fool. Regardless of what anyone will tell us, it takes a helluva lot of faith to go out into the big wild wooly unknown without a safety net. Without knowing what the outcome of our adventure will be. It takes an almost Herculean strength to say, "Regardless of the outcome, this is what I'm going to do. This is what makes me happy. This is what makes me fulfilled. And dammit, I'm gonna do it! Right here, right now!" Something about that sings to me, ladies and gentlemen. To have brass balls the size of coconuts is what I aspire to shlep around in my pants everyday.
The other thing about being a Fool is by and large people will not "get" us. They will look at us with "WTF" written all over their faces. They will question our every move. Every step we take we can be sure somebody's clocking. They're always looking over our shoulders, or hiding behind bushes, creepin' and peekin', trying to see what we're up to.  The thing about being a Fool is we'll never be left alone.  Because somebody somewhere will always be checkin' for us because they don't understand us. It's for that reason it takes courage to keep on doing what we're doing day after day, because people just won't let us be.  So when we're going through those times where people won't let us be even when we're trying our best to let them be we should take comfort in what The Fool (and Mama RuPaul) teaches us: "What other people think of me is none of my business." and keep it pushing.
See, here's the thing: REGARDLESS of what we do there will ALWAYS be haters. Always. I'll say it again: REGARDLESS of what we do there will ALWAYS be haters. Always.  Once we get it out of our minds that we must please everybody and start pleasing ourselves, things will start popping off for us in a positive manner. See here's the thing: When we spend all our precious time and energy trying to please the haters in front of us, what we don't realize is there are 20 more haters behind us hating that we're bending over backwards trying to please the other 40 haters in front. So regardless of what we do, we must always make sure what we're doing is right for us.
I may get in trouble for the last thing I'm about to say, but it needs to be said. The last thing I want to address today about faith and courage is contrary to popular belief throwing caution to the wind and having a "devil-may-care" attitude is not for everybody. No it's not. While the Universe expects a certain degree of faith and courage from all of us, it doesn't expect each and every one of us to throw caution to the wind. If we all did, there would be chaos. But at the same time, I encourage each of us to look inside ourselves and determine what amount of "faith and courage" is a tolerable level and what amount of "caution" is necessary to keep things moving in an orderly fashion.
See I have the sneaking suspicion once we dip our toe in the waters of faith and courage and see how warm and inviting it is, we'll eventually dip another toe. Then another. Then our foot. Then our ankles. And before we know it, we're splashing around and diving head first in the waters and loosing ourselves in the joy and freedom that comes with living a life the way the Universe wants us to live. And how the Universe wants us to live is different for each and every one of us. We all have a journey in life we must complete. We all have a set of tasks we must finish before our time is through. What are those tasks? Only we can answer those questions for ourselves. No one else can. And that splashing around with wild abandonment in the waters of faith and courage will look different for each of us.
But first we must take that chance and dip that first toe in. Not worrying about tomorrow. Taking it for granted the Universe will adapt and adjust accordingly when we do what we're called to do. And if we should ever worry, should we ever fret, all we have to do is look over our shoulder. The Fool is there. He's got out back. Encouraging us to live life abundantly and freely. So lets embrace the Fool in all of us. He's there to support us and lead us into a life that is full of faith and courage.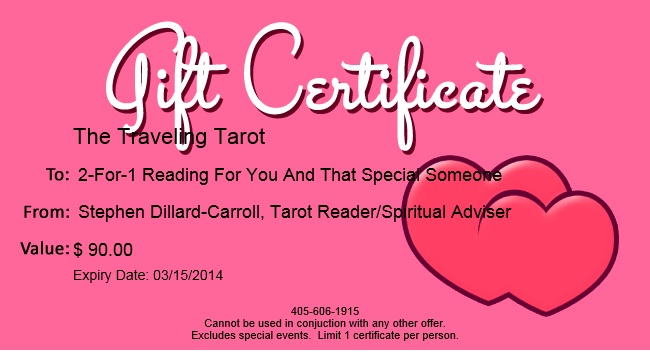 For more information on the above offer, click HERE.
Until next time family, be blessed.
Stephen Dillard-Carroll
The Traveling Tarot
Friend me on Facebook: http://www.facebook.com/TheTravelingTarot
Follow me on Twitter: http://www.twitter.com/tarottraveler
Categories: None
/