Shopping Cart
Your Cart is Empty
There was an error with PayPal
Click here to try again
Thank you for your business!
You should be receiving an order confirmation from Paypal shortly.
Exit Shopping Cart
| | |
| --- | --- |
| Posted on March 14, 2014 at 3:40 PM | |
Hello Family! Welcome to "Tarot the Day!" for Friday, March 14th, 2014. A great card for a great day, so let's get right into it!
Today's artist is Laura Freeman. There's not a lot of "bio" stuff about her, but the stuff I found was interesting. She doesn't make her living as an artist. Instead, like most of us she has a day job. I don't know what her day job is, but if she's like the majority of the world it probably looks a little something like this.  But what she does have that I find fascinating is "a small flock of sheep and goats". Yes ladies and gentlemen, in these United States in the year 2014 there are still people that tend to "a small flock of sheep and goats".  And brace yourselves, ladies and gentlemen, but in these United States, in the year 2014 there are still people that tend to "a LARGE flock of sheep and goats"!  I KNOW! I wouldn't have believed it either had I not read it on her bio page. But it's true.  So in between tending to her "small flock of sheep and goats" and her day job every once in a while she finds time to do artwork. And it's FANTASTIC!.  So I encourage you to GO to her website, check out her gallery and BUY HER SHIT!!!. Let's get into today's card.
I actually like today's card. And I love Laura's interpretation of it. It's the 10 of Cups. Here's how Laura broke it down: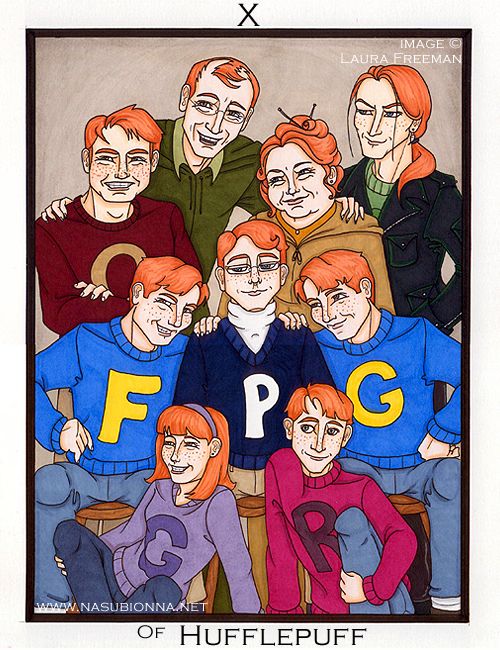 Without looking at her deviantART page, can you guess what family you're looking at?  Anyone?  IT'S THE WEASLEY FAMILY!  Now usually I don't feature fan art on this blog but the Weasley Family from the Harry Potter books (and movies) PERFECTLY sums up for me what the 10 of Cups is all about. So let's dig in, shall we? As per our usual we'll slice and dice the picture up, say "Expecto Patronum!!!", put it back together and see how we can apply it to our lives today.
So, who do we have in this lovely family photo? Ten points to you if you can name everyone in the picture without looking it up.  Any guesses?  All right, I'll break it down for you.  Top row going left to right we've got Charlie, Arthur (Dad) Molly (Mom) and Bill. The middle row has Fred (twin #1), Percy, and George (twin #2). And in the bottom row of course we've got Ginny and Ron. Ten MORE points if you can put all the children in birth order. GO! (Bill, Charlie, Percy, Fred, George, Ron, Ginny) IT'S THE WEASLEYS!!!! Red-headed, freckled faced, and "pure-blooded witches and wizards without an ounce of Muggle in them" (but don't let Mama Weasley hear you say that!) A lovely portrait of a happy family.
So how does all this tie into the Ten of Cups? And more importantly, what can it mean for our lives today?
The Ten of Cups has historically pointed to a happy and fulfilled home life. Where people get along and the love between the members of the family is so strong nothing can break it. And that's why I love the Weasley family for this card. They are a family above anything else. They may not have much, but they have each other. And that's the most important thing of all.
The Ten of Cups is in the upright position today, so I wonder if family and family matters are paramount on our minds today. Are we wanting to start a family? (The number 10 is all about fulfillment and re-starting the cycle, so it would be very apropos if we were at the beginning stages of starting a family.) Are we trying to figure out the best route to take when starting a family? Are we planning how we want our family to look, behave and love? If family, and the starting of our own family, is first on our priorities today, the Ten of Cups denotes success in that endeavor.
Also, the suit of cups is intrinsically tied to our emotions. It's very interesting the Ten of Cups, although denoting a successful and happy home, does not at first blush denote a particularly wealthy home. Again, that's why I absolutely LOVE that our new friend Laura has chosen the Weasley clan (Pop quiz: Who's missing from this picture?) for the Ten of Cups. For those of you not steeped in the mythos of "Harry Potter", let's just say that Arthur (Dad) works for the Ministry of Magic and the department he works in is severely under funded. Therefore the salary he takes home, spread out over seven children and a wife, is stretched paper thin. Consequently the Weasleys don't have the finer things in life. They don't have the mansion on the hilltop or the Maybach car (although their enchanted car is pretty awesome) or lots of money in the bank. But be that as it may, this family loves, loves, LOVES each other. So if this card is coming up for us today it may indicate we should find our happiness in the ties that bind us together in love rather than how much of the "finer things in life" we can afford. After all it was another child who herself came from very humble beginnings, who reminded us all after her adventure over the rainbow, "There's no place like home."
The Weasley clan also reminds us we should enter relationships for the right reasons. Again, the Weasleys aren't the richest family on the block. And they've been through their fair share of hard times and incredible loss. But through it all they remain a strong unit. They remain a family. That, dear family, takes commitment. Not only does that take enjoying and celebrating the good times with wild reckless abandon, but it also takes digging our heels in when times get rough and making the decision to work through it no matter what. That takes committing to loving each other no matter what. Money comes and goes, but love stands the test of time. Hard times come and go, but love gets through it. Incredible misfortune and embarrassment of blessings ebb and flow, but love is the constant. Let's make sure we enter into each relationship with that in mind.
I would be remiss if I failed to mention there may be some who are reading this blog who may not have come from the happiest of homes. Or those that may currently be in home life situations that may not be full of love, support, caring, kindness and joy. Sadly, the truth is homes like the Weasley household seem to be few and far in between. Or maybe we just don't hear about them often enough. In a world full of "if it bleeds, it leads", those that live in a stable, happy home may find themselves not necessarily the center of attention. But regardless of whether or not the former or latter are true, all too often we hear of families that may not be a Norman Rockwell painting come to life.
If that is our situation today I would strongly urge us to consider that sometimes the families we create ourselves can in fact be stronger than the families we're bound to by DNA. For way too many of us the old adage, "Blood is thicker than water" doesn't hold even a drop of water itself. If that's the case for us today, the Ten of Cups encourages us to get out there and find like-minded people. Create bonds with people that have the same interests, past times, hobbies and passions we do. And from those bonds real friendships have the opportunity to grow. And those friendships, if tended to and cultivated, can last a lifetime.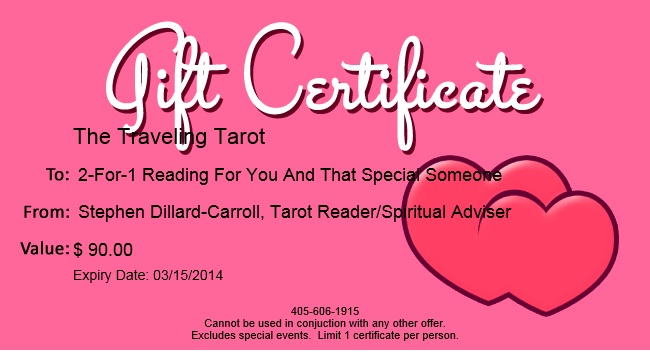 Only ONE MORE DAY to take advantage of the above offer.  For more information, and to book your appointment before time runs out, click HERE.
Until next time family, be blessed.
Stephen Dillard-Carroll
The Traveling Tarot
Friend me on Facebook: http://www.facebook.com/TheTravelingTarot
Follow me on Twitter: http://www.twitter.com/tarottraveler
Categories: None
/