Shopping Cart
Your Cart is Empty
There was an error with PayPal
Click here to try again
Thank you for your business!
You should be receiving an order confirmation from Paypal shortly.
Exit Shopping Cart
| | |
| --- | --- |
| Posted on May 20, 2014 at 3:45 PM | |
Hello Family!  Welcome to "Tarot the Day!" for Tuesday, May 20th, 2014.  We're about to take a left turn in these posts from here on out, so brace yourselves and let's go!
 If you've been a constant and loyal follower of my sometimes, every now and again, whenever the mood hits me, blog, "Tarot the Day!", thank you. (No seriously, THANK YOU!!!) And if you've been a constant and loyal follower, you'll see there have been some changes afoot for a little while. I've spent a lot of time this year thinking about what "The Traveling Tarot" (and additionally, "Tarot the Day!"
should ultimately be about. And I've come to some conclusions.
1) From the very beginning I've made it one of my goals with "The Traveling Tarot" and my business as a whole to get people to live the best life possible. To give people permission to take control of their own lives. To give people permission to kick ass and take names. To get people to control their own destinies. To that end, at least as far as me going out and building this business, I feel I have succeeded. However, when it comes to my blog, I don't believe "Living Your Best Life" has been taken as seriously. And that's my fault, I suppose. I've created a blog where up until recently I've completely depended upon Tarot as an entry-point into discussing what may or may not be "in the cards" for you, my dear readers, on any given day. I really wanna change that from here on out.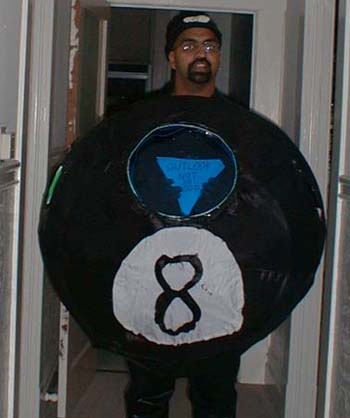 2) I've said it before and I'll say it again: "I'm not a walking Magic 8 Ball." Yes, I do read cards. Yes, I do give people guidance about how their lives will turn out if they continue on the path they're on.  (And in fact, if you check the front page and "Upcoming Events" page of "The Traveling Tarot" you'll see I'm doing a lot more radio gigs where I have no choice but to be that "Walking Magic 8 Ball'.  But those are radio events.  And I don't have an hour with everybody that calls in, so by its nature it has to be "assembly line" readings.)  But at the end of the day, notwithstanding the immense pleasure I get from my time on radio shows (especially my new family over at PPRN - "hey boo!") if all I am is someone you can grab hold of with both hands and ask a question while furiously shaking the hell out of me in hopes of me farting out an answer, as funny as that imagery is, I don't feel I'm living up to my greatest potential. Nor do I feel by farting out an answer "assembly-line" style everyday am I serving you as best as I possibly can. That's part of the reason why I've been so remiss in giving you daily blog updates. Because truthfully, I started to feel like Zoltar from the movie "https://www.youtube.com/watch?v=J62jciQ1PbY" target="_blank">BIG". Certainly ZOLTAR was effective, and through the magic of Hollywood it all worked out in the end, but HOW he was effective in the movie was in a way that isn't necessarily what I want from this blog or from "The Traveling Tarot". I want YOU to take control of your OWN destiny and create your OWN path, with the empowerment I try my best to give you permission to tap into.
3) If you, my dear readers, were to come to me in a one-on-one capacity and we sit down for an hour and I read your cards, odds are within the course of that hour I'd talk to you about where your life is now and where you'd like to see your life be. Again, it's SO much more than you asking a question and me being a Magic 8 Ball with all the answers. It's about creating a starting point wherein you can live the best life possible. Tarot, if used in the way I'd like it to be used, is merely the jumping off point. Where you, the querent, asks a question, and Tarot takes us on a journey. We're in the driver's seat, but Tarot is providing the scenery. We're always in control. We can speed up, slow down, go this way or that, stop to smell the roses or go full speed ahead. The choice is ours, and ultimately yours, when you leave a one-on-one session to decide which way you want your life to go. If you like the landscape Tarot has provided for you and are comfortable with the ride, fantastic. GO FOR IT. If not, guess what? YOU CAN CHANGE IT!
And truthfully, that's really what I'd like to see for this blog. A place where I present a scenario or talk about a quote I've found or a life event I've read about or experienced and encourage you to take the information provided and live your life to the fullest. Will Tarot be the "jumping off point" for all future blogs? No. Because as effective as Tarot is, there are other philosophies and thoughts and just plain ways of being that have nothing to do with the Tarot that are equally as valid. I want this blog to be a place wherein you, my dear readers, can come and read juicy goodness from all sorts of different sources.  And if you so choose, apply the lessons therein to your own life.
Will I abandon Tarot as a subject matter for my blog all together? No.  After all, the name of the blog is called "Tarot the Day!". Every now and again, I will find a piece of Tarot artwork that will move and inspire me and I will simply NEED to share it with you. Or I may find something the Tarot ties into neatly and incorporate that into my blog posting. Or I may just get a hankering to do a "Week of Tarot" or something equally as cheesy.
But from here on out, "Tarot the Day!" will focus less on the lessons of Tarot and focus much, much more on the new and improved tagline: "Sometimes this blog is all about Tarot... Sometimes it's not... Mostly it's about living the BEST LIFE POSSIBLE... And being a BAD-ASSED MOTHERFUCKER while doing it!"
Until next time family, be blessed.
Stephen Dillard-Carroll
The Traveling Tarot
Friend me on Facebook: http://www.facebook.com/TheTravelingTarot
Follow me on Twitter: http://www.facebook.com/TheTravelingTarot
Categories: None
/