Shopping Cart
Your Cart is Empty
There was an error with PayPal
Click here to try again
Thank you for your business!
You should be receiving an order confirmation from Paypal shortly.
Exit Shopping Cart
| | |
| --- | --- |
| Posted on June 8, 2014 at 8:25 PM | |
Hello Family! Welcome to "Tarot the Day!" Let's get into it.
I have a confession to make. I'm a Pollyanna. It's true. I am. I'm that person who always tries his best to stay positive. I'm that guy that gives people the "benefit of the doubt". I'm the one who's up to his ears in lemonade because he keeps on turning lemons into it. I'm the person you can count on to look for the silver lining in every dark cloud. Someone who's always looking for rainbows immediately after a storm. I'm the guy who always has a smile on his face. A positive word to share. Arms outstretched to give a hug. Yeah. I'm THAT guy.
And you know what family? I don't apologize for it. I make no excuses for my sunny disposition. I never explain away the "Aaww shucks, it'll get better!" punch to the arm attitude I have. It's simply who I am.
I have no explanation of where it comes from, this positive attitude I embody. I couldn't tell you why I refuse to give in when giving in seems like the logical thing to do. I don't have an answer as to why I roll with the punches when the punches keep coming fast and furious.
I guess if I were to really think about it, it comes from my mother. Children are so impressionable. SOAP BOX MOMENT: Be careful what you say to your kids because the younger they are the more likely they're to believe and hang onto every word you say. SOAPBOX MOMENT OVER. I was no different as a child. My mother would always tell us kids, "You can do anything! If you can see it, you can be it!" (No, I don't think she was a "Rocky Horror" fan. Although if she were that would explain a lot.) And I believed her.
And that belief has carried me through many a dark time in my own life. Yes family, your friendly neighborhood tarot reader/spiritual adviser has been through the mill and back. And I've lived to tell the story. But you know what? I'd rather not tell the story.  At least not now.  (I've got a helluva lot more living in me before my memoirs are written.  In trashy romance novel style, of course.)  Because while it's sure to have a happy ending (all romantic comedies and musicals do, after all) I refuse to dwell upon it. Yes, my life has had it's share of ups and downs. I've had many "dark nights of the soul". There have been many a time when I've been down and out and felt like giving up and french kissing the business end of suicide. And during those times no one would have blamed me one bit if I had.  But instead, I kept on pushing on.  I had to.  It was just in me to do so.
To be sure family, it's not been all gloom and doom. For the record, I've also lived a life of incredible highs as well. Where it seems life is firing on all eight cylinders; everything is working out to my advantage; everything I touch turns to gold and I'm on top of the world. It's at those moments where I'm standing on a railing of a ship with my arms outstretched and the wind blowing through my hair that I take a moment to appreciate what it's taken to get me to that moment in time. And I REVEL in it, family.  I eat up every delicious morsel of happiness and sop up the gravy with a biscuit.  And when the moment is over I guess I take a little bit of that "I'M THE KING OF THE WORLD!" feeling with me as I step down from the railing and prepare for the iceberg that's gonna hit. Because icebergs will hit. They always do.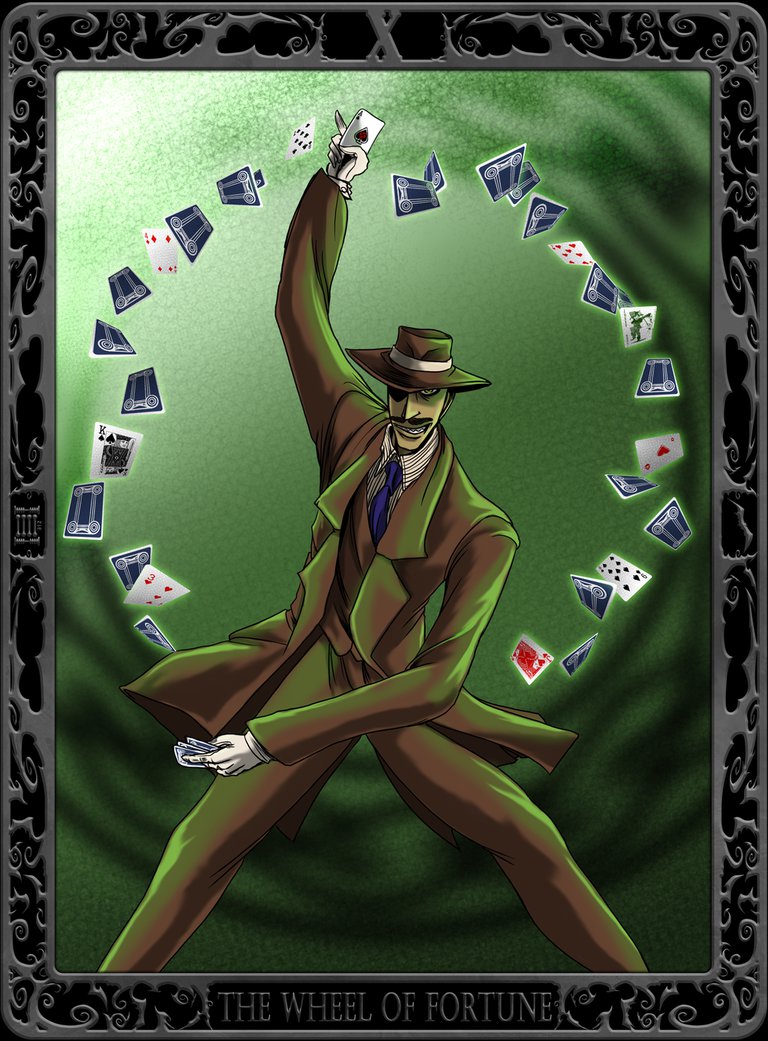 While writing this blog I kept on thinking about the tenth tarot card in the Major Arcana, The Wheel of Fortune. But much like the Wheel of Fortune card - here brilliantly interpreted by HegedusRoberto over at deviantart.com (check him out) - sometimes the cards are in our favor and sometimes they're not. Sometimes we're on top of the Wheel screaming "RED 21!  RED 21!" and everytime that ball bounces into Red 21 bottles are popped, casino managers are looking pressed, hookers get new clients, and all is right with the world.  Sometimes we're right side up, building our way to a glorious peak. And sometimes we're flat on our back in the reversed position while the house hauls away all our chips, casino managers are breathing a sigh of relief and hookers are moving on to the next john while we're sitting down on the sidewalk looking broke down and busted (because we are!) trying to figure out exactly where it all went wrong.
What I've found is it's our attitude - both when we're on top and when we're on bottom - that determine our spiritual evolution. There are lessons to be learned as the Wheel keeps spinning. There is progress that can be made if we're in the right frame of mind. There is peace and yes, even zen, regardless of where we are currently on the Wheel of Fortune.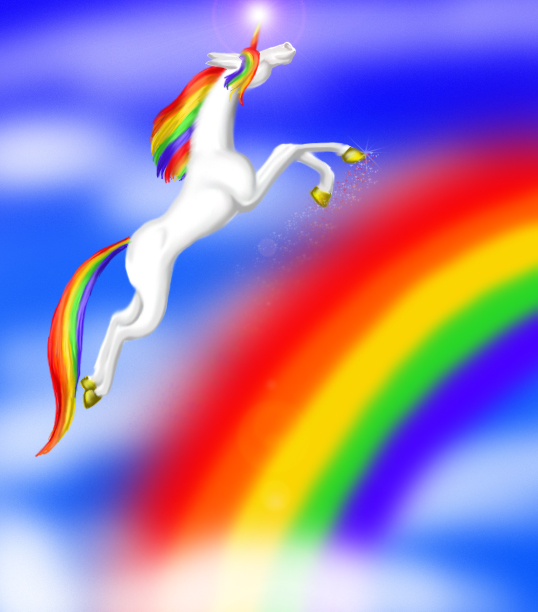 Which brings us back to the title of this blog posting: "Why Rainbows and Unicorns KICK ASS!!!" Other than the obvious (rainbows and unicorns kick a TON of bootay!  They really do!) what do I mean by rainbows and unicorns punting posteriors? Quite frankly I think it all boils down to this: What's our attitude?  And regardless of our present circumstance, where do we choose to focus our energy?  What's the attitude we have when we're on top of the world and where are we choosing to focus our energy when we're on the bottom of the ocean?  Are we learning from the highs of success and outrageous fortune?  Are we focusing on the lessons we can learn when we're at the bottom of the trash heap?  Or are we too caught up in either scenario to really focus on our spiritual evolution, regardless of our present circumstance?




And by the way, being a rainbows and unicorns kind of a guy doesn't mean I'm in a sea of denial. Nothing could be further from the truth.  Reality refuses to let me get away with burying my head in the sand.  Instead I'm actively pursuing ways to be positive. I'm actively seeking ways to make things better. I'm actively going out of my way to make other people's lives better. I'm doing everything in my power to make this world a better place.  (Please click on that link. It keeps me humble.) And not only that but it makes the times when I'm being crushed by the Wheel of Fortune a little more bearable. Because in the back of my mind, no matter how bad things get, I keep on thinking "Things will get better. They have to. How can they not?"




Now family if I'm being completely honest, that Mary Poppins way of thinking can get lost in whatever bad thing I'm going through at any given moment. Sometimes I'm all but overwhelmed by the cards the Wheel of Fortune has dealt me this round. But that Mary Poppins point of view is always there. It may be just a whisper. With the constant roar in my head of all the horrendous things I'm going through at any given moment, that chorus of "Everything's going to be okay" may be so silent as to become just a feeling I get every now and again when I allow it real estate in my mind. But it's always there. I can always count on it.




And that, dear family, is what being a rainbows and unicorns type of person is all about. It's not just putting on a happy face and hoping no one notices the pain we're going through. It's not about laughing instead of crying (although I've been told that can relieve a LOT of stress). It's about saying - and believing to the bottom of our hearts - that whatever we're going through "this too shall pass" (originally taken from Persian Sufi poetry and also appearing in Edward Fitzgerald's writings and a speech Abraham Lincoln gace in 1859) and "joy comes in the morning" (taken from Psalms 30:5.)  It takes strength to believe.  It takes courage.  It takes faith.  It takes an unwillingness to give in to our present circumstance - WHATEVER it may be - and to learn from it regardless.  It takes believing in the "kickassery" - NEW WORD! - of rainbows and unicorns.




And that's why, dear family, rainbows and the unicorns that frolick, trot and gallop across them kick bodacious, bountiful, beautiful, bubblicious butt.




Until next time family, be blessed.

 

Categories: None

0

/